This article starts a new blog section of our website called "syrup fans", where we will share our experiences and latest news from our syrup workshop.
Over the past few years what we created Herbert Syrups, we built a community of friends and visited many events. Even though we like every festival we take part in, only one is the "matter of heart" for us. We fell in love with Pohoda festival at the time when we were just the long-time visitors. At that time, we certainly did not know that once we will be part of it.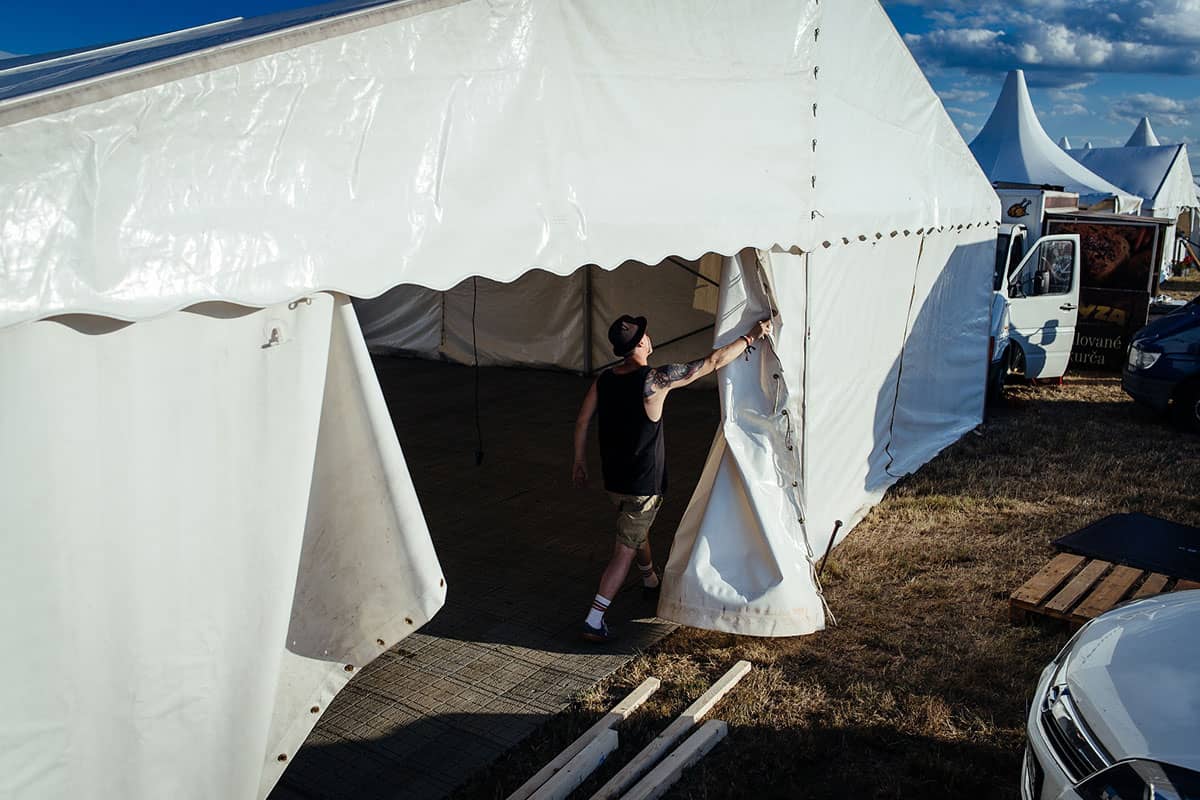 Foto: Peter Lančarič
When we visited Pohoda festival for the second time in 2016 with two fully loaded cars, we did not know what to await. We spent the whole day preparing the bar and dealing with all the other related issues. It was not easy after two nights with minimum amount of sleep, but fortunately the boys from @rustynailscoffee, helped us to stay awake by preparing their excellent coffee. Just when we thought it could not get any better, we encountered a problem with the floor that proved to be inconvenient. Thanks to great people around us who are more family than friends, this problem was solved. One of those people is Aďo from @jedlekvety. We know that we can always find the best quality herbs and decorations at Aďo. Instead of spending one hour at the "herb farm" it is already a habit to spend there a couple of hours. In addition to fresh herbs, we bought a smoked knee and 2 tons of crushed wood which we used to cover the entire floor in the tent; it created an unmistakable atmosphere.

 Foto: Peter Lančarič
However, the real drudgery started on Thursday, when all our ideas and visions had to be put into practice. We created teams and assigned tasks. While some of us dealt with the decoration and bar, others focused on the preparation of drinks and top-quality coffee from the Roastery located in Brno. Besides traditional combinations, we introduced our wine specialty, which caused a scandal that did not make the situation easier. To name it, it was the J#$ @ DO RUKY.



 Foto: Peter Lančarič
It was a spontaneous idea to create a take away drink, which we already tested at Pohoda festival 2015. Many positive responses inspired us to name the drink this way. A storm which arose caught us right before the opening of the festival. We were a bit nervous, but we had still a lot of work to do. One is never ready, but we are happy that everything ended up well. Thanks go to our friends for their support and to Pohode festival for accepting our sometimes crazy idea.

 Foto: Peter Lančarič
It is impossible to describe the Atmosphere at Pohoda festival. You have to experience it yourself with the best party you can think of. For us, it is not just fun but also commitment to provide you with everything to enjoy this festival. In one week's time, there will be Pohoda festival 2017 and we already know that it will be unforgettable. We cannot wait!